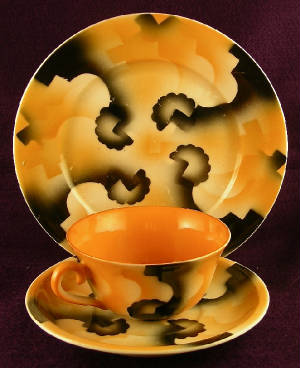 Leuchtenburg
On this site you can see images of German Spritzdekor (air brushed) ceramics, read an essay on Eva Stricker-Zeisel's German ceramic designs 1928-32, for Schramberg and Chr. Carstens-Hirschau, essays on German Science and the American West, and an essay on newelposts.

Examples of German Spritzdekor (air brushed) Keramik, 1928-1933. Nazi officially declared many of the ceramic forms and Spritzdekor decoration degenerate, Entartet, in 1936.
Degenerate Art was also the title of an exhibition, mounted by the Nazis in Munich in 1937, consisting of modernist artworks accompanied by text labels deriding the art.
The exhibition subsequently traveled to several other cities in Germany and Austria